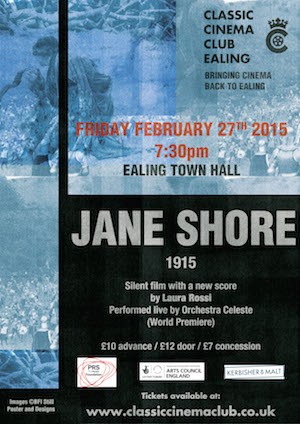 Here are some pics from last night's Jane Shore gig at Ealing Town Hall.
Laura Rossi had written all the music and was playing piano & samples, along with Miriam Lowbury – cello, Sophie Langdon – violin, and myself on guitars and glockenspiel.
Classic Cinema Club Ealing and PRS For Music Foundation had commissioned Laura to write an original score to the British Film Institute's silent 1915 film JANE SHORE, the first British epic and one that rivalled the best productions coming out of Hollywood at the time. Jane Shore was filmed in part at Ealing Studios and produced by Will Barker who founded the original studio and built the complex. The BFI have made a newly restored colour tinted version for the film's centenary birthday celebration.
Now that we've done the first concert we're taking the show across the country. The PRS for Music Foundation and The Arts Council England have given us some support so that we can take the show on the road.
So, please come along and see and hear it for yourself!
Jane Shore Centenary Tour 2015 
The gig made Timeout's list of top film events for London this week.
Premiere Photos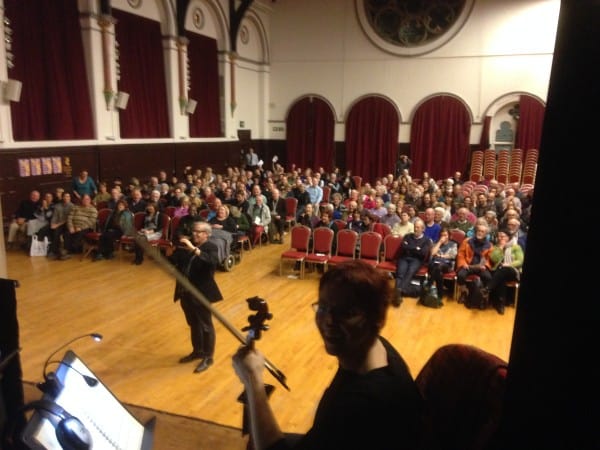 CCCE organiser Alan Granley taking a selfie along with all the excellent people who came out to support the gig and made it into such a great night. Ta!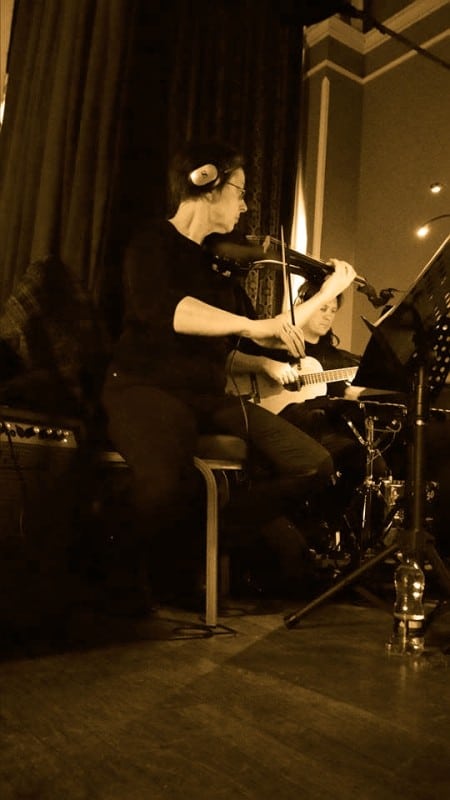 Sophie Langdon was playing the violin. It's such a treat to play with Sophie. She's an unbelievably strong and expressive player.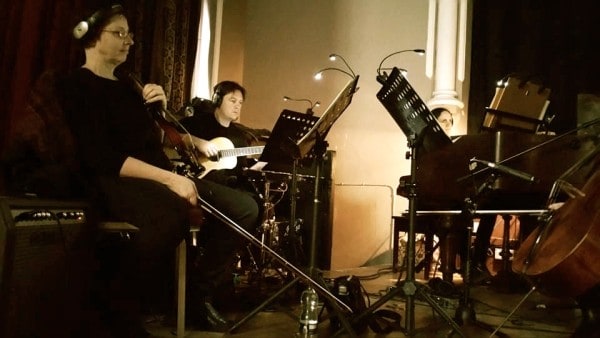 Here's Sophie, Laura, me, and just out of shot was Miriam Lowbury playing the cello who's another stellar player. Miriam and Sophie have played together for years, so it's great to watch just how easily they connect, and how much they enjoy playing together.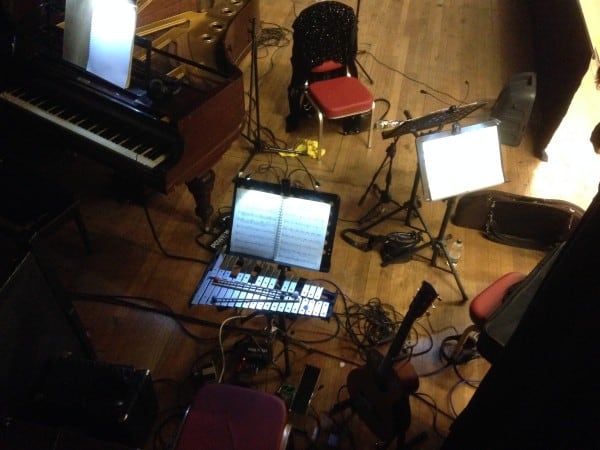 Here's my setup, Acoustic gtr, Electric, and Glock. We're set up facing each other which is such a great way to play music together.
So all in all it was an amazing start to the tour. Ealing Classic Cinema Club are doing a fantastic thing in Ealing, so if you're nearby and like films, I'd highly recommend going along to one of their events.
You can find out more about them here: http://classiccinemaclub.co.uk/
You can follow Laura here: https://twitter.com/laurarossimusic
For more details on Laura's music go to http://www.laurarossi.com
Hope to see you at one of those gigs!