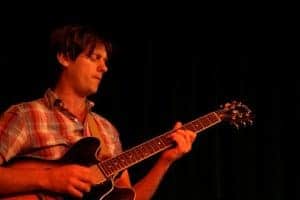 If you want to take a lesson with me there are 5 ways you can do that (see below). If you're wondering if I'm a good fit for what you need, let me share a little about my experience in music education:
So first off, I'm a professor at The Royal Academy of Music, The Guildhall School of Music and Drama & Trinity College of Music – three of the strongest places to study in Europe, and I've taught music professionally for over 25 years. I've also taught for Royal Welsh College of Music & Drama, Royal Northern College of Music, Jamey Aebersold Summer Camp, Tech Music School, BIMM, Live Music Now, The Purcell School, London College of Music, Middlesex University and many other UK conservatoires.
Mike is one of the most experienced and talented musicians our university has ever worked with – his knowledge, enthusiasm, empathy and sheer artistry over all genres of music has made his masterclasses the most successful ones we have staged. Gerry Rossi – Strathclyde University
I've directed group workshops on improvisation, composition & performance, and have given many guitar-specific workshops as well. I wrote a monthly tuition column in Guitarist Magazine for three years, and I run ElectricCampfire.com – my online tuition site that has a thriving community of around 700 guitar & improvisation students.
I studied with Mike Walker, Steve Berry, Peter Bocking and briefly studied classical guitar with Fiona Harrison. I have a Masters Degree in Music from Thames Valley University and a Fellowship of the London College of Music Recital Diploma.
So, I have a ton of experience helping people like you who want to improve their improvising, guitar playing and enjoyment of music. No matter where you are on the journey I can help.
If you're still unsure, feel free to check out these video lessons I've made for you right here :) And read some testimonials from students over at my lessons site Electric Campfire.
If you want to get started, check out the 5 options below and don't hesitate to contact me to let me know what you need help with.
– Mike
Email Me
1. Private Skype/Zoom Lessons
You can take a 1-2-1 lesson with me via Skype/Zoom/Facetime from anywhere in the world. I'm available any day, any time. Just shoot me an email to fix something up.
2. Online Guitar Lessons
Over the last 5 years I've been running ElectricCampfire.com which is a global community of around 700 guitar players ranging from people who are starting to explore improvisation and want to build the skills and repertoire to play with others, through to professional musicians who are playing gigs and want to go deeper into more advanced improv topics. You'll find comprehensive step-by-step video courses on all aspects of improvising and guitar playing, 1-2-1 Private Coaching with me, Guest Expert Lessons with Phil Robson, John Wheatcroft, Chris Montague, Any Law, Chris Allard, Milton Mermikides & more, Q&As, Group Challenges, and a great community forum. It's a GREAT place to get the feedback, encouragement and advice to get your playing to the next level & to become a more creative guitarist. Also, you can take a 14 day free trial right now and check it out for free!
3. London Music Conservatoires
I teach at The Royal Academy of Music, The Guildhall School of Music, and TrinityLaban, London, and I've helped hundreds of students at that level since before the dawn of history. Before I lose my mind completely I'm offloading everything into my online guitar academy above.
4. Workshops
I LOVE hanging out with a bunch of guitar players and geeking-out about it all. If you have a group of people you think might be interested, or you could gather a group of people (anywhere in the world) then please get in touch. I'd be more than happy to explore how we could make it happen.
5. Electric Campfire Creative Jazz Guitar Weekend
I run a guitar weekend in London a couple of times a year. It's open to 6 people at a time, and the emphasis is on playing in duos and small group settings and applying lessons in playing situations. We play a lot :) If you're interested in attending the next one, contact me here to register interest.

Email Me