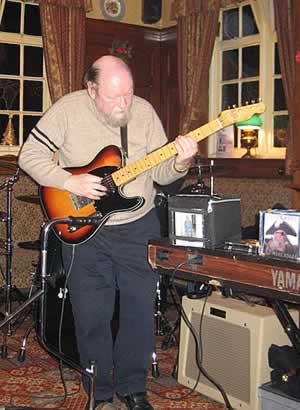 Pete playing with Victor Brox at the Nursey Inn
(courtesy Butch Mepham)
I found out recently that Manchester guitarist Pete Bocking died last week. He was my first electric guitar teacher and a complete one-of-a-kind. There's more info available on the net about Pete here:
I'm just learning, also, that he was very well known and loved by the communities within various political blogs, and that they're just learning about his musical career.
Anyhow, I thought I'd share a few memories of him here.
I first studied with him when I was around 15 or 16 over three years or so. Pete taught from an upstairs room at Barratts Music Shop on Oxford Street, Manchester.
Every Saturday I'd look forward to the adventure of getting to Manchester, having a lesson and then exploring: trawling through all the music shops, buying up most of Music Exchange's stock, checking out records at Yanks, and milling about at the Cornerhouse Cafe. It was a magic time.
I can't remember how I came across Pete. I may have just wandered into the shop and seen that he was teaching there. But he really took me under his wing and opened my eyes to studying the guitar. He had a very methodical and detailed approach, and he loved to talk about the theory and analysis of music.
At the time, I was obsessed with Steve Vai, Yngwie Malmsteen, Led Zepellin and so on. I brought this to him one week, it's a Vai piece from the movie Crossroads. The following week he had it down, and it's not easy! He then used it to explain how the arpeggios implied the harmony and then he showed me the Paganini Caprice that part of it is based on, and that led to a section from Bach's Violin Sonata in G Minor that he really impressed upon me to learn. That was a beautiful thing to do, I think. To take the rock stuff I was into, learn it and then blow my mind with all this other great stuff. And he did that with pretty much everything I brought to show him.
He explained jazz harmony to me very well, and he was very encouraging and motivating. I remember him pressing me to work hard because I wouldn't have the time later. [Right, he was!] Another thing was the passion with which he played. I remember him playing a blues and really going for it in his playing. He wasn't a shrinking violet as a player.
I'm really thankful for the tuition and good advice Pete gave to me and especially lucky to have had Pete as my first teacher. Obviously, he must've taught many people over the years, so if you're one of them and are reading this, feel free to add any thoughts or memories below.
He'll be missed by many.