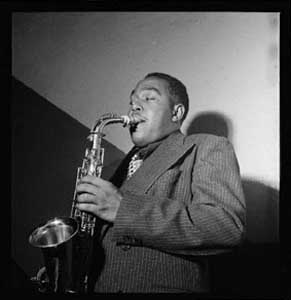 I've just made a Spotify Playlist of the transcriptions in the Charlie Parker Omnibook and thought I'd share it here. Hopefully, they'll appear in the order they are in the book. Feel free to link to it, pass it on, or whatever. There's only one track missing: the alternate take of Kim. [update: got that one now] Also, this version of Anthropology skips a few bars at the beginning of the solo – some digital meltdown, perhaps. Anyhow, it makes for a great practice/listening session.
Ko Ko is my favourite piece that's transcribed in the book – face-melting in every way. Outside of Omni-world, my favourite Parker tracks are Embraceable You which has a stunning solo; The Washington Concerts featuring Parker winging it over a big band with no rehearsal – incredible, smart, intuitive playing and a great Red Rodney interview; and, The Savoy Sessions featuring Parker playing tenor alongside Miles.
Enjoy!
Here are the tunes in the book. Click here for the playlist
Ah-Leu-Cha, Another Hairdo, Anthropology [some skips in the version], Au Privave [No.1 & 2], Back Home Blues, Ballade, Barbados, Billie's Bounce, The Bird, Bird Gets The Worm, Bloomdido, Blue Bird, Blues (fast), Blues For Alice, Buzzy, Card Board, Celerity, Chasing The Bird, Cheryl, Chi Chi, Confirmation, Constellation, Cosmic Rays, Dewey Square, Diverse, Donna Lee, K.C. Blues, Kim [No. 1], Kim [No. 2], Klaun Stance, Ko Ko, Laird Baird, Leap Frog, Marmaduke, Merry-Go-Round, Mohawk [No. 1 & 2], Moose The Mooche, My Little Suede Shoes, Now's The Time [No. 1 & 2], Ornithology, An Oscar For Treadwell, Parker's Mood, Passport, Perhaps, Red Cross, Relaxing With Lee, Scrapple From The Apple, Segment, Shawnuff, She Rote [No. 1 & 2], Si Si, Steeplechase, Thriving From A Riff, Visa, Warming Up A Riff, Yardbird Suite.
Also, check out these fantastic articles written by Steve Coleman on Charlie Parker.