'The star of the show for my money is guitarist Mike Outram, whose blazing work sounds to me like a cross between Allan Holdsworth and Frank Zappa. …this is most apparent on "Hymn," with Outram's searing solo the utter highlight of the entire album.'
Brad Walseth, Jazz Chicago
'Mention must be made of the facility possessed by guitarist Mike Outram – his effortless choruses and creative impulses were also noteworthy, logically developed and often lyrical even when playing prestissimo'
The Times, Sri Lanka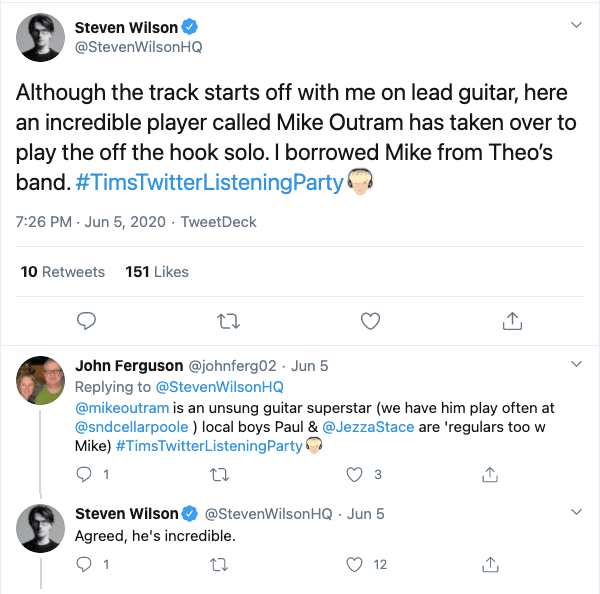 'world-class'
John Fordham – The Guardian
'Outram particularly impresses on guitar, he gives an amazing solo which leads me to take my air guitar out of the cupboard every time I hear it'
Ian Fairhorn, Progressive Ears
'Mike Outram uses a superb technique to conjure wonderful sounds from his guitar and to draw every ounce of expression from his instrument.'
Trevor Bannister, TheJazzMann.com
'One of the British guitar finds of recent years'
The Guardian
'Mike Outram is without doubt the most talented guitarist of his generation'
Steve Rubie, 606 Club
'It's an endlessly inspiring thing to see what the guys in the band add to the music from gig to gig. Mike Outram in particular is a real guitar hero and one of my favourite musicians. He seems to continually expand and add new layers to his playing; it's quite something. He has a very loose role in the band and I really enjoy his personal and often bizarre take on the tunes. With a unique figure like him it's best not to direct him too much and just turn him loose and let him just enjoy finding new things in there. Every big band needs a demon on guitar!'
Gareth Lockrane (http://www.londonjazznews.com/2014/05/preview-interview-gareth-lockrane-at.html)
'Among the hottest contemporary guitarists in the country, Outram moves easily from Scofield funk to coolly swinging bebop'
The Guardian
'Guitarist Mike Outram, for years the pride of Manchester jazz, needs no introduction. Suffice to say, his sharp and cleanly articulated lines are a lasting joy.'
Alan Brown, News North West
'many numbers during the evening, displayed the riveting intensity of Mike Outram's guitar'
Darryl Gee, Huddersfield Examiner
'an invigorating player'
City Life Magazine
'Outram likewise is all discipline while exploring the nooks and crannies of Sirkis' dark materials: he summons the spirit of early McLaughlin, notably on 'Life Itself' and the acoustic intro to 'Spirit', although this soon morphs into some bastard mutant The Nice-like rock climax where you can almost see Lodder leering from his keyboard like some postmodern Phantom Of The Opera. Of course, if the likes of Holdsworth floating worlds are not your cup of Tetley and Messiaen sounds to you like a three-years-old playing the melodica with a lolly stick, you may find We Are falling otiose rock opera of the dreariest and you may wish to avoid this shadowy part of the cosmos. Your loss, mind.'
Andy Robson, Jazzwise
'With Steve Lodder on organ and guitarist Mike Outram, they create powerful, dark sound-washes and churning prog-jazz grooves that take the listener on a journey to outer and inner space.'
Kerstan Mackness, Time-Out
'Mike can actually play anything, and to an incredibly high standard. Mike really likes bebop and he really likes playing groove things, contemporary developments; he even likes to thrash out and turn it up if the situation calls for it.'
Martin Speake
'Ms Dankworth's band is headed up by guitarist Mike Outram, whose elegant playing references bossa nova, country music and the more tasteful side of fusion. He's a nimble, accomplished soloist and a sensitive accompanist, capable of pastel washes, shimmering folky chords or juicy bop lines.'
BBC Website Review
'the superlative guitarist Mike Outram'
Chris Howes
'Sirkis plays brilliantly, as do Lodder and Outram (the latter spectacular on the typically thunderous Hope)'
John Fordham, The Guardian
'Mike Outram, an impeccable guitarist'
Jazz UK magazine
'Mike Outram's electric guitar work was fascinating, and they played well-loved standards with flair and imagination, both melodic and edgy at the same time.'
Swanage Jazz Festival Review.
'Mike Outram's electric guitar work was always fluid and interesting, particularly during the piece about the seductive mermaid, when he created a shimmering, bubbly effect using only his fingers.'
James Griffiths, Guardian
'Mike Outram is a more conventional virtuoso, as capable of slashing grandeur as any rock guitarist demi-god. With Rare Birds, he holds his power in restraint, and beguiles the more as he becomes quieter. Indeed, Mike Outram's career is in the ascendant. The guitarist is the most conspicuously successful of Manchester's new jazz migrants… In the best showbiz manner, his breakthrough came when he deputised for Jim Mullen in US superstar Herbie Mann's band. Outram's playing on the London date, and subsequent South African tour, made a considerable impact: not least on jazz legend Herbie Mann himself….'
Mike Butler, City Life.
'Mike Outram is exemplary. His lucid and expansive solos are the perfect foil for the leader's simmering, glowing excursions…'
Alan Brown, Metro.
'The guitarist is new to me, but he sure as hell could grow on one. From the intricate harmonics of a standard solo to a slashing execution that wouldn't be amiss in a band from a harder genre, Mike Outram forces his guitar through the entire gamut. Even Herbie (Mann) looked kind of impressed.'
Chris Roper, ZA@PLAY (review of Herbie Mann gig)
'Mike Outram's outrageously fine musicianship.'
Mike Butler, City Life