Hi, I'm Mike Outram, Jazz Guitar Professor at the Royal Academy of Music, Trinity College of Music, and The Guildhall School of Music. I teach anyone interested in jazz guitar – from hobbyists to professionals. If that's you and you'd like to book a lesson just email me here.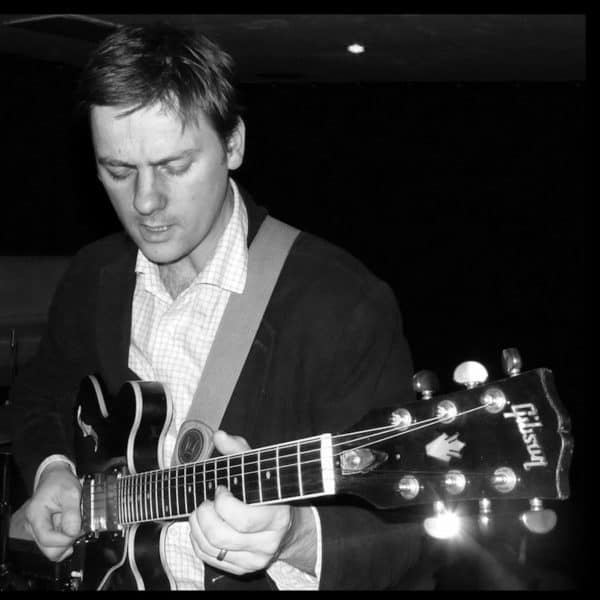 Do you want to deepen your knowledge of jazz and improvisation on the guitar?
Wondering what and how to practice?
Want to learn how to solo without your head exploding from mode overload :)
Well, you're in the right place.
If you want to see what I can do for you, just send me an email and I'll help.
Here's some of the music education work I've done and a bit of background info.
I'm a professor at The Royal Academy of Music, The Guildhall School of Music and Drama & Trinity College of Music – three of the strongest places to study jazz in Europe. I've taught music professionally for over 25 years.
I've taught for Royal Welsh College of Music & Drama, Royal Northern College of Music, Jamey Aebersold, Tech Music School, BIMM, Live Music Now, The Purcell School, London College of Music, Middlesex University and many other UK conservatoires. I've directed group workshops on improvisation, performance and composition, and have given many guitar-specific workshops as well. I wrote a monthly tuition column in Guitarist Magazine for three years, and I run ElectricCampfire.com – my online tuition site that has a thriving community of over 670 guitar & improvisation students.

I studied with Mike Walker, Steve Berry, Peter Bocking and briefly studied classical guitar with Fiona Harrison. I have a Masters Degree from Thames Valley University and a Fellowship of the London College of Music Recital Diploma.
I'm also very active performing and recording, really enjoy being thrown into new and challenging situations. I like figuring out how I can make the band sound good. Click here for a little run down on some of the music I've been involved with.
Also, here are a couple of clips for you to hear :)
This one is a funk/fusion band I play in. [Track: Feelin' Nearly Normal]
And this one is a jazz quartet from a while back. [Track: Secret Love]
There's much more music on my YouTube channel
Ok, hope that gives you an idea. To contact me click here & let me know what you're looking for. I'd love to help you.
Lessons are in Ealing, West London (or Online) and I charge £55 for an hour.
PS: Want some of my best video lessons? – You should get my FREE Guitar Toolkit now!