Two new Banzai tracks done: 'We Are The Banzai Buddy Band!' (kind of a signature song, that one) and 'The Rhythm Machine' (an homage to the awesome Dr's beats) They've all gotta be done, finished, dusted, by Sunday. That's er, today. Rats, I'll be busy tomorrow then. Today, even.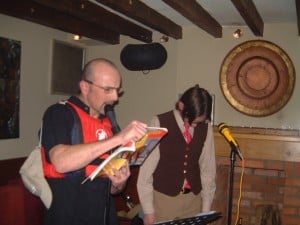 Check us out here. http://www.myspace.com/thebanzaibuddyband
[Myspace unfortunately. I hate Myspace, so when all the tracks are done I'll put 'em on BandCamp so you can download them and play them ALL the time :)]
If you'd like to book us for a world tour that'd be very nice. Or maybe an endorsement with Rubik's Cubes. Hey, whatever… you just go wild.
Thanks a lot!
*update* Two more tracks added now. 'Genius Boy' and 'I Like A Little Bit Of Maths In The Morning'. There are a few more to come before world domination so get some rest…