So Barack Obama revealed his true colours when he decided to bomb the moon and accept the Nobel Peace Prize on the same day.
The Clangers, anyone? Did anyone stop to THINK?
Anyhow, as my gig now has a political element I might wear a black armband, or perhaps a more fitting statement would be to make a T-shirt with the blog post title on it.
If you don't know already – I'll be playing guitar in this, and at some point I'll be playing the swanee whistle. I'll be taking on the role of Tiny Clanger or Small Clanger. It's big – REAL BIG. In a Tiny sort of way. I've got to transcribe the Clanger dialogue and somehow learn to replicate it on the swanee whistle. Sounds impossible right now but we'll see. Steve Vai was offered the gig but turned it down saying his transcription chops weren't up to it. It's a heavy gig, what with the politics and everything.
In the interest of authenticity I'd be interested to find out which model of whistle was used. A bit of Google rummaging has unearthed this, but I'm still none the wiser. So far I've bought two whistles: one is a plastic full-sized looking thing; it's quite bassy, but tends to fail in the lower register. The other is a child's instrument and is not up to the task, I'm afraid. There must be some kind of whistle shop in London with a geezer who knows the whole history and can absolutely shred on it. Hmnn, the Clangers shred. No, stop that thought right there.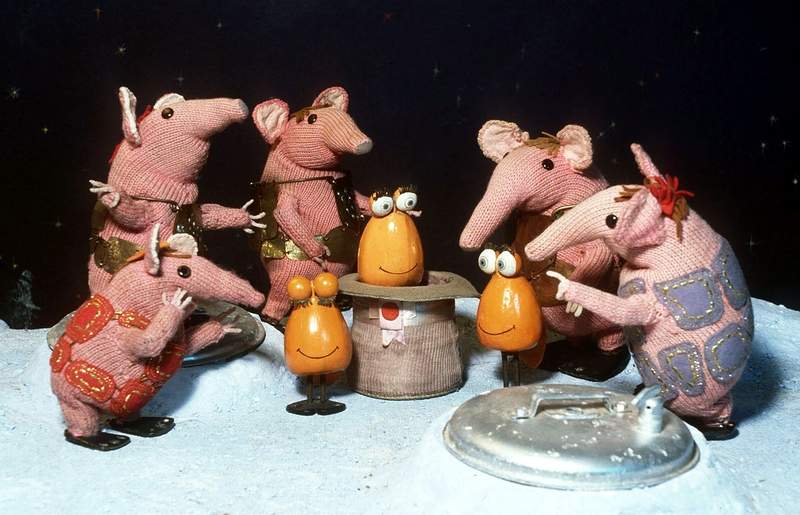 Anyhow, 3, 2, 1, backintheroom. What's it all about then? The gig is the music of Vernon Elliot. It's one of a series of four performances that are taking place in the Union Chapel in support of the Margins Project, an in-house charity for people who are homeless or in crisis in London. In their words:
The music of Vernon Elliot (a tribute to the world of Oliver Postgate) performed by North Sea Radio Orchestra.

Produced in association with Trunk Records, this evening celebrates the music Vernon Elliott composed for Oliver Postgate/Smallfilms productions such as The Clangers, Ivor the Engine, Pogle Wood, Noggin the Nog and more.  Featuring specially commissioned music arranged by Craig Fortnam and Laura Rossi performed by the North Sea Radio Orchestra, the Union Chapel will be decorated to reflect the shows to create an irresistible escape to childhood.

In honour of Postgate, who died last December, the concert will also feature a special arrangement of the songs and music of Bagpuss.

Other concerts in this series include:

Mon 19 Oct: Gavin Bryars Ensemble
Fri 23 Oct: Max Richter performing from From The Art of Mirrors
Sat 24 Oct: The Michael Nyman Band feat. David McAlmont

About The Margins Project:

In October 1995 the Margins Project was set up to help with London's homelessness crisis. From that beginning 13 years ago, the Project's emphasis was on social support and providing facilities to meet basic human needs. The project provides services and facilities for those People finding themselves living on the streets and in crisis.

Marginalised is presented by Union Chapel
produced by Arctic Circle.

http://www.myspace.com/northsearadioorchestra
http://www.laurarossi.com/
http://www.marginsproject.org
http://www.jointhecircle.net
http://www.marginalised.net/

Event details

Date: Thursday, 22 October 2009
Time: 19:30 – 22:30
Location: Union Chapel (Islington), London
Ticket prices: £20 adv + booking fee
Here's a nice Guardian article related to the event: http://www.guardian.co.uk/music/2009/oct/08/oliver-postgate-music-of-spheres
Come on down, it will be a fun night!