Hello Dear Reader,
I don't seem to be posting much at the moment. All my time seems to be focussed on ElectricCampfire.com [more of that later] But other things have been happening too, so thought I'd update you on some nice things that've happened since my last update which was in, mumble mumble, *cough*, ahem, ah…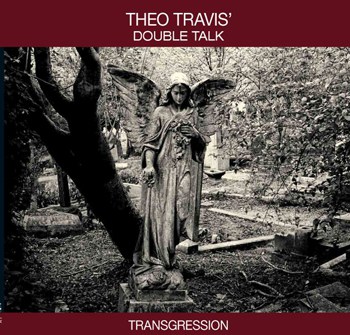 I made a nice record with Theo Travis. He had been touring like crazy and making all kinds of splendid artefacts with Steven Wilson, Soft Machine & Robert Fripp for a while, so I was really excited to be making a follow up record to Double Talk. I'm really pleased with the album. The whole thing was recorded brilliantly by Nick Pugh, and Steven Wilson did a stellar job on the mixing.
It's had some nice reviews, and was #1 on some bizzaro Amazon chart. So if you squint very hard, it would be entirely acceptable to say we are NUMBER ONE ON THE AMAZON CHARTS.
That's – Number 1
#1
So that's a win :)
Eat my shorts.
I had a couple of gigs with Prince's sax player, Marcus Anderson. Prince didn't show up though. Although maybe he did. Isn't he like 3 inches high? I probably missed him. Maybe I ate him in my pizza. Who knows…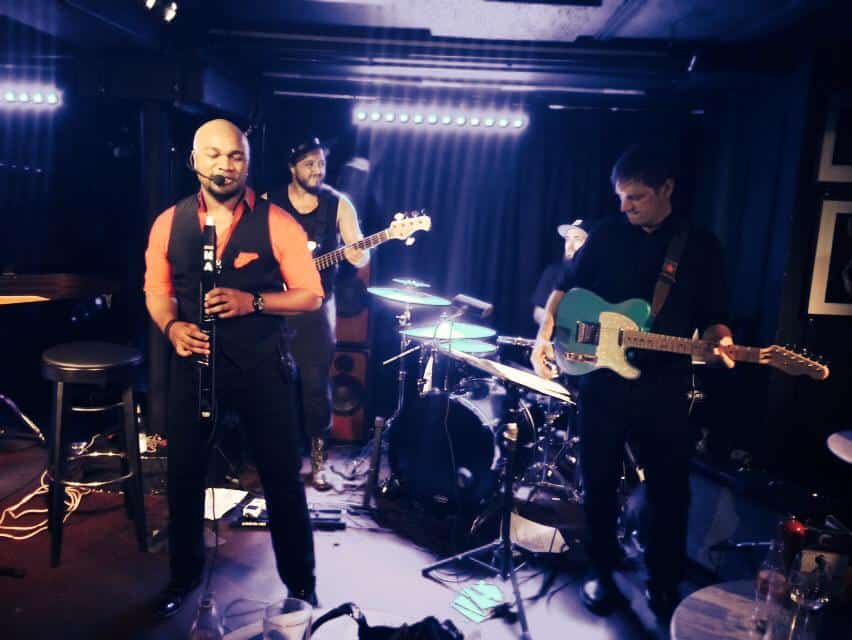 The Jane Shore tour that started at the beginning of the year rolled on to a gig in Leicester Cathedral. I was VERY excited about this because it's where the remains of King Richard III were found buried under a car park. Which doesn't happen every day.
Anyhow, there was a protest outside the cathedral from some royalist weirdos. At one point I was imagining some psycho loner stabbing me in the eye with a quill and rambling something about blaspheming the memory of the King, but that didn't actually happen.
Nevertheless, a great gig. I enjoy the energy when you play in a strange setting like that. Especially enjoyable was a moment playing my acoustic guitar and accidentally switching on the distortion channel [kindly left on '10']. Sort of a primordial howl from beyond.
I had a couple of gigs with Nikki Iles. Worth mentioning just because I think she's extraordinary, and I always feel like I get a blast of musical magic from playing with her. Check her out if you haven't heard her before.
A while ago my wife Laura wrote an orchestral piece with choir and poems with Vanessa Redgrave reading. It was splendid fun to do a couple of gigs with orchestras and Vanessa. A highlight for her was requesting a lift to Worthing in my incredibly shit car that doesn't work at all. You think she'd be helicoptering in from the Bahamas, wouldn't you? But, no, she's a work-a-maniac. Let's go!
I finished another couple of albums: one with bass player Al Swainger, another with long time associate Tony Woods, and another with Roz Harding and Jim Bashford. Hopefully they'll be out before 2020.
That reminds me, there was a couple of recording sessions for the Ayala Show – a TV show that's aired on Irish telly and YouTube. The first session was with Rebecca Hollweg, then with Tony Woods.
I had a VERY exciting couple of gigs with a ridiculous band. I'm amazed it even happened: Rob Mullarkey, Jeremy Stacey, Paul Booth, Tom Cawley, and me.
So what do you do when Jeremy is touring the globe with Noel Gallagher or being a hermit in the studio with Tal Wilkenfeld, Paul is touring with Stevie Winwood and Steely Dan, Rob is recording with Wayne Krantz, and Tom's off with Peter Gabriel, but the stars have aligned and everyone is free on the same two nights?
Well, you pick 10 tunes that absolutely need lots of rehearsals, and book a couple of gigs at Ronnie Scotts supporting Jonathan Kreisberg, have NO rehearsal other than deciding where to have a pint in the three minutes before the gig, and then proceed to have one of the most enjoyable experiences ever.
Wish I could do this every day!

I had several 2 guitar gigs recently. One with Pete Callard and a couple with John Wheatcroft. I LOVE playing with another guitarist. It's so much fun when the focus isn't on music music music anymore, and I can just focus on playing higher, faster, and louder that the other chap.
Not really. That was a joke, American people.
Anyhow, I got to play Drag Racer with John, which was a Massive win. A career highlight, actually.
Yesterday, I got to be on a panel courtesy of Dr. Milton Mermikides at the International Guitar Research Centre about literacy, pedagogy and the development of contemporary electric guitar. There were many other Doctors there. It was like a Dalek convention. I haven't been on a panel before and am a little bit nervous of speaking in public, so that's why I agreed to do it.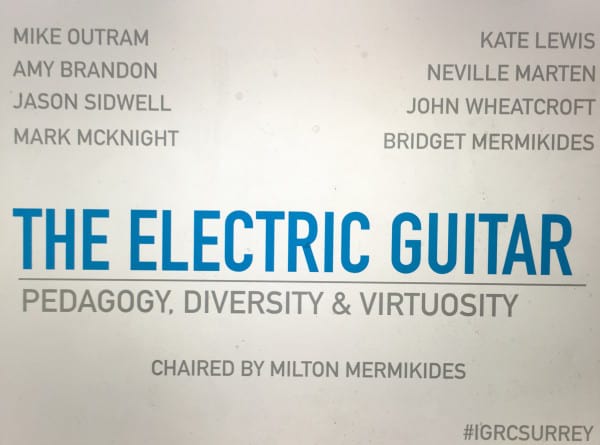 I think I mumbled the everyone into submission with some amazing 'eeerrrrr I, I , I mean well… errrrr, dunno'. Definitely get the, 'oh my god, I've literally NO IDEA what this question means…everything is going blank…. I am a potato….blancmange, blancmange, haircut, washing machines live longer with calgon…. errrrr……'.
Can I have some Media Training please??
Anyhow, it was fascinating to be around good people who know a lot, and have a lot to talk about. Amy is doing a PhD on fretboard orientation. Say what? I had no idea that people would do that. Got to meet my old bosses from Guitarist magazine Neville Martin and Jason Sidwell. I sort of go into 'I'm not worthy' mode around people like this. I mean where do you begin? 'Oh, hi, I play jazz guitar' Oh really? well yesterday I interviewed Yngwie, Derek Trucks, Clapton and Scofield, what did you do?'. 'Oh, well, I took my kids to school and then updated my website'.
Anyhow, that brings you roughly up to date. In the future I've got some nice things coming up. More touring with Theo Travis – they're letting us out of the country and we're januting off to Tilburg in the Netherlands. Ace.
I've got one or maybe 2 gigs with Trish Clowes coming up. Trish is pretty damn good at music, so looking forward to that.
Also, sometime in 2017 I'll be touring with the Julian Siegel Jazz Orchestra. *Quite* excited about that, too.
Now, as I mentioned, my primary focus is my lessons site ElectricCampfire.com at the moment. And my #1 priority is to get people to join this free course I'm offering at the moment.
It's all about Chord Tone Improv and Mind Reading. Mind reading in the sense of being SO clear with the harmonic info that you play that you can direct the other musicians you play with. It's all about musically connecting with people and enjoying that unspoken musical telepathy thing.