Last Saturday I did a trio gig at Ronnie Scott's. Didn't really advertise it as I haven't done anything like that – playing standards in a trio with bass and drums – for a really long time. It's quite daunting for me to play trio as it feels really exposed and I'm responsible for so much more. But, that's what makes it more rewarding when it does work.
Anyhow, I really enjoyed the gig. I hadn't played with Sam Burgess, the bass player, for ages, and he was completely amazing. Playing with him reminded me of what's good about trio with just guitar, bass and drums: you get a lot of space and freedom to mess around with the harmony; and, as the only pitch information that's coming at you is from the bass, it means it's easier to hear and interact with. The great thing about playing with Sam is that he puts a lot of stuff out that's really interesting and creative in itself, but he also really responds to what you do too, with frightening immediacy.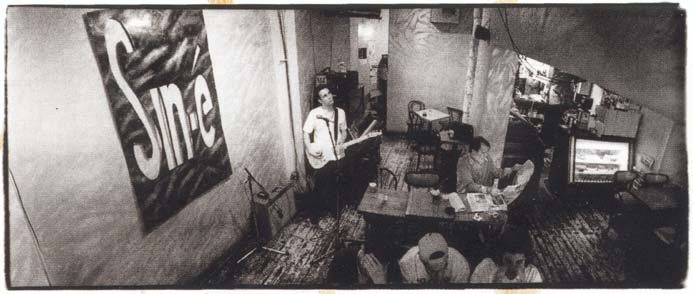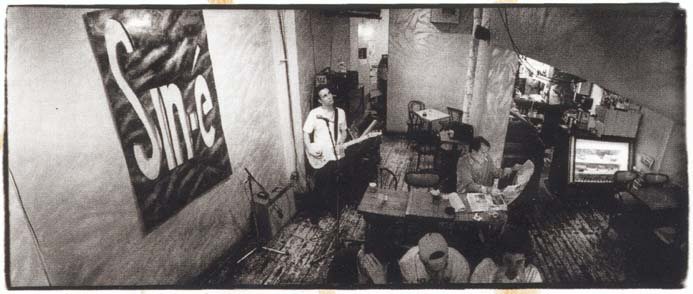 So, now I'm thinking I'd really like to get a regular trio gig. Somewhere where I could do some playing on standards. I used to do lots of that ages ago but I've been doing mostly original music lately. It'd be nice to explore a bit of that for a while.
In my utopian dreamworld It'd be great to have a little weekly trio gig in a coffee house or a bar in West London. Maybe somewhere that'd be a good place for students to come down and jeer or whatever. A little more specifically utopian (if one can have gradations of utopianism) – wooden floors wouldn't go amiss, and free to get in, near the tube, good food and coffee, jazz-loving owner, beer too… I'll stop short of a helicopter landing-pad :)
So, maybe you can help me out? If you know of anywhere that could be as cool as this place, let me know! Or better yet, if you're a regular, why not ask them if they'd be up for some live music. You never know. I'm off to make a big list and get scouring the West Side. There must be somewhere out there…